Let customers speak for us
Herbal Hair Growth Spray
I have only been using the Herbal hair spray for 2 weeks and I can see the difference already. My balled spots at the temples are filling in and the rest of my hair is becoming more thicker. I am more than please with this wonderful product.
S. Witherspoon
Herbal Hair Growth Spray
Love Child Whipped Body Butter
Love Child Whipped Body Butter
Great product
The smell is Amazing!!!!!! I'm in love with this product, waiting to see the results.
Herbal Hair Growth Spray
Omg im a first time user i am hooked Frenquency : Love I Smell SOOOO Good I absolutely Love IT IM definitely buying more
LOVE FREQUENCY
Best Soap Ever
I've been using a tumeric scrub for my face for a while now. However, when I got wind of this product, this is my favorite and it helped with a problem dark spot that would constantly reappear in the same spot on my face, Since using this product, I have noticed that I don't have that problem anymore. I awaiting for the restock of this product to order for my grandson who is now experiencing skin issues as a pre-teen. I will definitely stock up on this product
Handmade Bar Soap
Chokehold
It's the moisturizing lather for me! Love my soap! I'm in an instant chokehold, and will order more soon.
Handmade Bar Soap
Love!!!
I recently found out that one of the ladies that went to high school with us has her own shop with amazing products for hair and body. If you're having problems with POSTPARTUM hair loss, her products are amazing!! I decided to try one of her perfumes and I am in LOVE! Perfect for spring! Small businesses supporting small businesses is the way to go! Thank you Selena Chantel Parker for all your advice and much continued success to your business!
#socialitebodyessentials
#womensupportingwomen
#womeninbusiness
#smallbusinessbigdreams
LOVE FREQUENCY
Amazing
This is hands down one of my favorites! If you like soft sweet smells, this is the one to purchase!
Flirty Whipped Body Butter
Love it!
I love the rose water mist spray and the smell!
Rose Water Facial Mist
Love love LOVE!
I ordered this a few weeks ago and it's already gone. Such a great investment when it comes to self-care. I love that it's all natural ingredients. I get compliments on my scent. Will be subscribing to receive it monthly. Loyal customer!
Melanin Collection
Lookin Good Ova Here!
I have only been using my hair growth spray for a two week now but I am already feeling the difference in my hair when I touch it and my scalp feels so hydrated and clean. I can't wait to see the results in weeks to come!
Herbal Hair Growth Spray
Works so well had to stock up!
I decided to try this tea because I have bad eczema and swelling in my legs. I was pleasantly surprised that after a week of drinking it there was a noticeable difference in both. I mix it with my kombutcha and it's a rewarding combination! I do believe this tea will continue to be apart of my daily routine. Thanks SBE for this.
BLOOD CLEANER
TRUTH FREQUENCY - FOR HIM
TRUTH FREQUENCY - FOR HIM
Great scents
Loving and enjoying my order. Really like the love child. Will be back!!!
Love Child Whipped Body Butter
Getting Flirty
I have been getting so many compliments on this scent and every time I make sure to tell them where I got it from. Flirty and Cozy have been my favorite from day one
Body Drip - Air Mist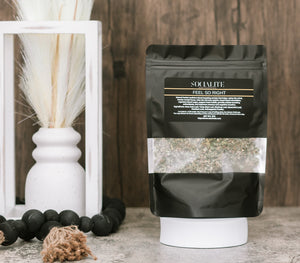 Anti-Anxiety Herbal Tea
Feel So Right is our anti-anxiety and mental focus tea. If you're having frustations, unfamiliar emotional reactions or feeling super anxious with a lack of focus, this tea is for you. This blend calms the nervous system and provides mental clarity that can help move through mental fog/blockages.
FEEL SO RIGHT TEA
SEASONAL SCENTS
Summer Bae
Time to heat things up this Summer with Summer Bae! Juicy notes of lime, pomegranate, and moscato grapes are sure to create some steam!
SEASONAL COLLECTIONS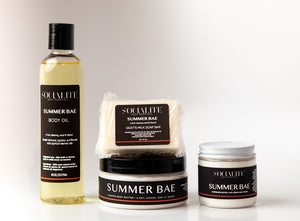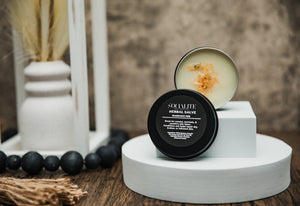 SUPER DRY SKIN
Need something heavier than whipped body butter?
We've infused pure herbs such as calendula, chickweed, rosehips, and tea tree oil in this powerful salve to battle and condition dry/cracked skin.  
This salve helps condition the skin and is thicker than our body butters to tackle the toughest of dry spots.  If you need something a little heavier than whipped body butter, this is the one.  
HERBAL SALVE
DON'T LIKE FRAGRANCE
No worries! Our Blind Date whipped body butter and natural deodorant have zero fragrance and is also infused with calendula flowers and sunflower oil to give your skin a natural glow and arm pits a detox and protection without the fragrance.
BLIND DATE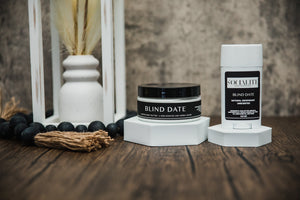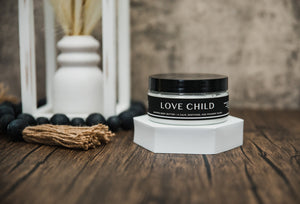 ALL OVER MOISTURIZER
Did you know you can add our whipped body butter to your skin AND hair? Our nourishing formula penetrates the hair shaft providing great sealing of moisture.
MOST POPULAR
BENEFITS OF BODY BUTTER
Our first and most popular product is the body butter. Our body butter is shea butter based and has many benefits to the skin and hair. Our body butter:
- Moisturizes the skin
- Forms a protective layer around the skin
- Reduces Wrinkles
- Helps soothe skin rashes, sunburn and eczema
- Contains beneficial antioxidants like vitamin C
- Eliminates any sign of dry, chapped skin and leaves skin feeling smooth and renewed.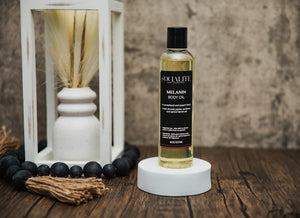 GOOD SKIN SMILES
When your skin is treated right, it glows and shows! Put a smile on your face with one of our natural body and massage oils. Made with jojoba and apricot kernel oils.
MELANIN BODY OIL
HERBAL TEAS
Socialite offers herbal teas that help cleanse the blood and help the womb space. If you're suffering from low iron and blood issues, try our Blood Cleaner tea! Packed with organic sarsaparilla, this tea helps clean and build the blood.
If you suffer from long periods or severe pms, this tea is s great assistant to relief. Packed with nettle and red raspberry, this tea helps soothe, comfort, and shorten our cycles.
HERBAL TEAS