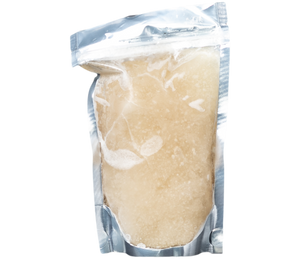 Sea Moss Gel
Regular price
$25.00
$0.00
Unit price
per
 **PLEASE NOTE THERE ARE NO REFUNDS ON SEA MOSS GEL ORDERS. CUSTOMER ORDERS AT OWN RISK of SPOILAGE AND ACKNOWLEDGE THAT THEY HAVE READ ALL DETAILS BELOW**
16 ounces
Made from our Sun Dried Irish Moss that has been washed, soaked, and prepared for you in distilled/filtered water.  Ready for consumption. Natural thickener and source of collagen. Simply add to your smoothies, drinks, sauces, soups, facials, hair and more.  Naturally loaded with potassium, iodine and many other essential minerals and nutrients.  Great nutrition.  Sea moss has 92 trace elements! 
Sea Moss is a species of seaweed (algae) that is grown and harvested from the waters of the Atlantic Ocean and the Pacific Oceans. It is rich in minerals and nutrients and known as the collagen of the sea. For many years Sea Moss has been revered for it's super high iodine, potassium, calcium, and Vitamins  A, D, E and K. It is used world-wide for its remarkable healing properties especially relating to issues of the thyroid, joints, colds and flu, and learning/behavior disorders.  A natural detox, the mucilage from Sea Moss is high in potassium chloride which goes to work breaking down catarrh, puling toxins from the cells naturally.
Country of Origin: St Lucia
Our Sea Moss comes directly from the pristine waters off the island of St Lucia.  We do not alter the sea vegetable in way. Please follow directions for preparation.
[PERISHABLE ITEM] - REFRIGERATE OR FREEZE IMMEDIATELY.  Lasts up to 3 weeks in the refrigerator and/or up to a year in the freezer.  
SHIPPING - THIS ITEM ONLY SHIPS MONDAY THROUGH WEDNESDAY [TO MINIMIZE CHANCE FOR SPOILAGE.  
---
Share this Product
Tastes good & I feel good!
It's good by itself, my gut has not felt so much better, I feel more energetic and clearer. Im happy to connect with such a down-to-earth and genuine organization, I can't wait to embrace more of my sister's products and grow in my health in every way as a result!
Sea Moss Best ever
I started using Sea Moss when the pandemic first started and I am now very pleased with my purchase from you. I enjoy the taste and I am very happy with the results that I am having. As always all of your products are A+++. Keep up the great work
Yuck
Said shipped on Thursday Feb 3rd and received Monday the 7th should be shipped on ice and sent overnight taste disgusting
Awesome
I did purchase the 30 day auto supply . But I'm almost out and I'm on like 10 days in.. taking 2 tablespoons but great taste and all..
---