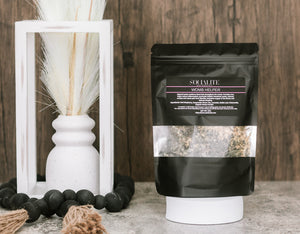 Womb Helper
Regular price
$24.99
$0.00
Unit price
per
4 Ounces - **contains naturally occurring caffeine**
Natural herbal medicine blend that strengthens the womb as a whole. Provides iron, helps reduce inflammation, promotes healthy menstrual cycles, reduces cramps and calms pain from fibroids, increases oxygen in the blood, and reduces bloating. 
Ingredients: Red Raspberry, Gunpowder Green Tea, Lavender, Nettle Leaf, Chamomile,
Organic Honey Powder
4 oz lasts 2 - 2 1/2 weeks. Use 2 tsp per 1 cup of boiling water, low simmer 15-20 min.
You may simmer for hours depending on how strong you will like the tonic. Consume 2-3x a day.  Do not throw away herbs - you can reuse herbs up to 3 times.  Once done, give used herbs back to the Earth.

Red Raspberry Leaf:
Contains vitamins B, C, magnesium, phosphorus, zinc, and potassium.
Helps relieve PMS cramps and mood swings
Lessens heavy periods
Rich in antioxidants
Gunpowder Green Tea Leaf:
Reduces bloating
Provides natural energy
Reduces the risk of chronic diseases 
Contains polyphenols and antioxidants that helps build the immune system

Lavender Leaf:
Helps reduce abdominal swelling
Relaxes the body
Significantly improves overall mood
Soothes menstrual cramps
Soothes anxiety

Nettle Leaf:
Great source of folic acid
Relieves fluid retention
Strengthens the kidneys
Boosts levels of calcium, iron, potassium, and sulphur

Chamomile Flower:
Reduces inflammation
Reduces menstrual pain
Anti-inflammatory
Helps lower blood sugar
Rich in antioxidants 
Calms anxiety and nerves
If you are nursing or pregnant, it is safe to take.  Note: this tea contains naturally occurring caffeine which is significantly lower than caffeine found in coffee.  Please consult with your doctor or physician prior to taking herbal supplements. 
*The statements made regarding these products have not been evaluated by the Food and Drug Administration. The efficacy of these products has not been confirmed by FDA-approved research. These products are not intended to diagnose, treat, cure or prevent any disease. All information presented here is not meant as a substitute for or alternative to information from healthcare practitioners. Please consult your healthcare professional about potential interactions or other possible complications before using any products.
For educational purposes only. This web site's purpose is to provide you with information that may be useful in attaining optimal health. Nothing in it is meant as a prescription or as medical advice. You should check with your holistic physician before implementing any changes in your exercise or lifestyle habits, especially if you have physical problems or are taking medications of any kind.
---
Share this Product
Womb Helper Tea is truly a Godsend!!
Typing this as I steep!! I was diagnosed with pcos and experience prolonged menstrual bleeding (for months). I drank this hot and cold for a week and my bleeding slowed and on this 6th day I'm down to just spotting. So grateful for this product and the relief I'm experiencing after years of frustration and no answers from doctors! Will continue to keep it in my regimen! ❤️
Double Date whipped body butter
This scent is magical and nostalgic. Absolutely love the way it glides on my skin.
---